Air Conditioning Services in the Burlington NC Area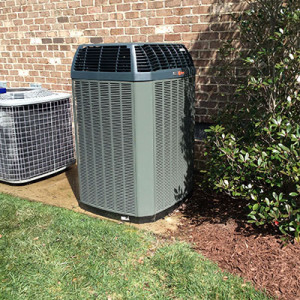 After spending a hot day working or playing hard, you want to come indoors to a cool environment to relax. Burlington, NC and surrounding areas boast a hot temperature during the summer that can be enjoyable as long as you have a reliable air conditioning unit. The professionals at Mike Bledsole Mechanical Heating and Air, Inc. can help you achieve a cool, temperature controlled indoor environment by providing repairs, maintenance and installation of air conditioners. If your AC unit has been around the block and is on it's last leg, Mike Bledsole Mechanical Heating and Air, Inc. will come out to your home to help you choose a new, energy efficient air conditioning unit that is the right size for your space. Not only can you count on Mike Bledsole Mechanical HVAC to provide you a fair price, quality air conditioner and reliable service, you can even set up a maintenance plan so your air conditioning unit is running at peak performance without having to think about it. In addition to providing residential solutions, we also provide commercial services and can efficiently accommodate jobs from one unit to hundreds of units. To learn more, simply call our office at (336) 516-8263 or fill out the form on the contact us page. 
Air Conditioning Repair in Burlington NC
During a hot summer day, the last thing you want to happen is your air conditioning system to stop working. Walking in from the heat to a hot home is a scenario that no one wants to face. When this happens to you, Mike Bledsole Mechanical is here to help. No matter the age, condition or who installed your air conditioning units, our team is available to you. Your comfort is our priority. The best way to prevent find yourself in this "sticky" situation is by regularly servicing your system. The professionals at Mike Bledsole will regularly test your system, determine what steps to take and fine tune your system before it stops working. Air conditioning issues are best fixed immediately. The longer you wait, the greater the chance that another break may happen to make your repair more expensive. Save your time and money by using Mike Bledsole Mechanical Heating and Air, Inc. to regularly service your system. If you have an immediate need, please call our staff at (336) 516-8263 or fill out this form to have a team member respond promptly. You can learn more about our maintenance plans on the maintenance page.
Air Conditioning Replacement and Installation in Burlington NC
If your unit is old, broken or too expensive for repair, Mike Bledsole Mechanical can help you replace and install a new, energy efficient system. Having the right sized system for your space is just as an important as the quality of the system. If your system is too big or too small, your home may be getting cooled, but not efficiently. This lack of efficiency may put a strain on your system and reduce the lifespan of your air conditioning system by years. As an authorized Trane dealer and supplier of the top brand name systems, MBM will assess the size of the space being cooled, suggest a unit and provide a free estimate. Whether you are in need or replacement or adding a new central or ductless air system to your house, Mike Bledsole Mechanical will be there to guide you through the process. One of our team members will provide you with a free estimate during our in home evaluation that includes a load calculation to guide on the most energy efficient system for your home. Once the air conditioning system is installed, we will follow up to make your system is working properly and train you on how to use it. Every system is backed by The Bledsole Guarantee, so you can know that we are in your corner. Contact the professionals at Mike Bledsole Mechanical today by calling (336) 516-8263 or fill out this form.
For more information on AC installation you can click here to visit energy.gov.
Schedule a Free Estimate or Appointment!
Quick Links
Schedule a Free Estimate or Appointment!