Sheet Metal Fabrication Solutions in the Burlington NC Area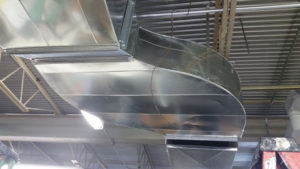 Full Service Sheet Metal Fabrication
Mike Bledsole Mechanical Inc Provides a full service sheet metal fabrication shop. We make our own ductwork for each and every duct system we install, both commercial and residential. Therefore, every single duct system we install is custom made by hand for its application. With 30+ years of experience in fabricating ductwork, we can fabricate a solution to fit any need. When it comes to ductwork, we believe we are the best. We are so confident about our ductwork that we give a 10 year warranty* on ALL of our complete duct systems that we install.
Custom Made Duct Work
Each duct system is different based on its application. The design principles may be the same for every job. But there are many variables that we consider to properly design your duct system, such as duct size and length. Unfortunately, duct design is where most companies fail. Most homeowners don't realize the money they are wasting due to poor ductwork. Proper airflow can make all the difference in your comfort level, your energy bills, and the lifespan of your system. A properly designed duct system can extend the life of your hvac system.
Benefits of a properly designed duct system:
Better HVAC performance
Lower energy bills
Higher level of Comfort
Longer lasting HVAC system
Call us today to find out why many of our competitors count on us to fabricate the duct that they install.
*Does not cover animal damage or water damage.
Schedule a Free Estimate or Appointment!
Quick Links
Schedule a Free Estimate or Appointment!