Heating Repair Services in the Burlington NC Area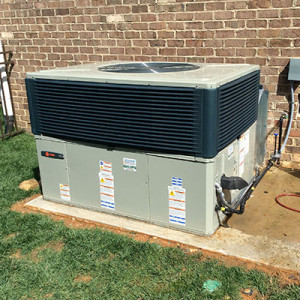 In the winter months in the Burlington NC area, it's important to have a heating system you can count on. You may have an existing system that needs repairs or maintenance, or maybe you are seeking a new heating system. Whatever you're looking for, let Mike Bledsole Mechanical Heating and Air take care of all your heating repair needs!
Our full range of heating services are designed to keep your home warm during the coldest months of the year. Mike Bledsole Mechanical can help you by diagnosing almost any issue or problem, even if the system wasn't installed by us. If your system is older and constantly breaking or needing repairs, we can guide you to choosing the perfect heating system for your space. We can install a heating system that will be both energy efficient and affordable for your space. If you're looking for an easy, hands-off service our maintenance plan is perfect for you. We will perform preventative maintenance and repairs on your system regularly to keep your home warm and system running for many years to come. No matter what heating services you need, simply call our office at (336) 516-8263 or fill out the form on the contact us page.
Heating Repair in Burlington NC
When it's cold outside, you want to be warm and cozy indoors. What if your heating system breaks? That's when you call the professionals at Mike Bledsole Mechanical. When your heating system stops working, we are just one phone call away. No matter the age, condition, brand or who installed it, we will take care of your heating repair and get it back in shape to warm your home. A warning sign that you may need heating repair could be a smell, noise or not maintaining the desired temperature. The sooner you call us, the sooner we will be there to get your home back to warm and cozy.
Heating Maintenance in Burlington NC
To ensure your heating system is running at it's best, you should have a professional maintain your system regularly. Mike Bledsole Mechanical offers heating system maintenance plans that take the headache out of home heating. Even a brand new system needs to have regular inspections and maintenance performed to ensure it's running efficiently which will save you money. Regular heating system maintenance is important because stray debris and dust gather in your system throughout the year. If it's not regularly cleaned, it will cause a build up in your system which will make it work harder, meaning less efficiency and a shorter system life span. For more information, read more on our Maintenance Plans page.
Heating Installation in Burlington NC
Let the professionals at Mike Bledsole Mechanical guide you whether you need a replacement heating system or one installed in your home for the first time. We offer free in-home evaluations to determine what type of system will be the most energy efficient and affordable for your home. Whether you are in need of a replacement, or are needing a heating system installed in your home for the first time, we will guide you along the way.  We offer complimentary in home evaluations to ensure that we install the perfect heating system for your home. MBM will assess the size of the space being cooled, suggest a unit and provide a free estimate. Once you approve this heating system choice, our installation team will take it from there. Depending on the size of the project, this could take a few hours or a few days. Once your heating system is installed, one of our team members will follow up to make sure everything is running at it's best. You can rest easy knowing that every installation is backed by The Bledsole Guarantee.
We pride ourselves in educating our customers before making any purchasing decisions. Give us a call today at (336) 516-8263 or contact us via email to learn more about the heating systems and solutions we offer.
Schedule a Free Estimate or Appointment!
Quick Links
Schedule a Free Estimate or Appointment!